T-Shirts - Alabama Crimson Tide
---
---
Here are T-Town Football, we love Alabama Crimson Tide t-shirts. We try to keep you informed on all things Alabama, but one of your specialties is Alabama tee shirts. We have listed over 1000 t-shirts from over 20 online shopping cart stores. We looked over all the internet each week to find the newest, most popular, and even vintage Alabama t-shirts to list here at T-Town Football. To see the all of the Alabama shirts, just Click Here or click the banner below or just scroll to the middle of this page.

We also take the time to categories each t-shirt. We have 27 different categories to place each t-shirt into. From logos, brands, holidays, graphics, words, pattern, sleeve, features, and many more categories. If you are looking for a long sleeve Alabama shirt with a big vintage Bama logo on it, then we can give you a list of available t-shirts that are available from over 20 stores online. Just click here or the banner below to try out the Alabama Crimson Tide T-Shirt Search Tool.

Alabama is one of the top colleges for available collegiate merchandise and tees are one of the top selling products. There are well over 50 different brands that make the Alabama Crimson Tide t-shirt collection. Each year comes brand new Bama t-shirt designs from all of the brands. From men, women, youth, toddler, and even babies tees, you can find just about any t-shirt style to wear. From the saying, graphic, logo, or if you like a pocket on your Alabama shirt, you can find it here at T-Town Football. We don't actually sell any of these, but we help you find it and where you can purchase it.
Top Alabama T-Shirts Of The Week
Each week we look at over 20 online web stores for some of the new and unique Alabama Crimson Tide t-shirts. Below are some of the Top Alabama T-Shirts for the week of March 7th-13th of 2021. These Alabama shirts could be a brand new design that just became available. Also, these t-shirts might be an old design but is a favorite or popular Bama t-shirt right now. We try to pick some of the best and unique designs that Alabama Crimson Tide Fans will love to have. Be sure to check back each week as we list the top Alabama t-shirt for that week. To stay up to date with all of the new Alabama t-shirt, Bama products, and Bama news be sure to signup for our T-Town Football Newsletter.
Top Alabama T-Shirts For Week: March 7th-13th 2021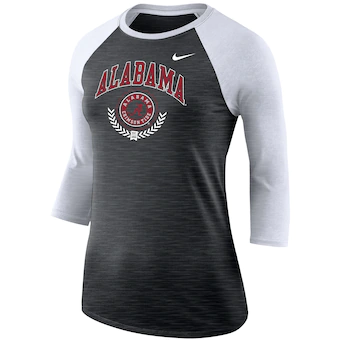 The is a brand new Alabama Crimson Tide women's t-shirt by Nike. It is a three quarter sleeve raglan shirt. Instead of the usually 100% cotton fabric, that is usually for a raglan t-shirt, the Nike raglan shirt is a performance type shirt. It features the Nike Dry-Fit technology which will wick away moisture. It is made of 65% cotton and 35% polyester. The design is only on the front of the shirt and features the circle Bama logo and a wreath underneath the logo. The main body color is grey with white sleeves. It comes in women's sizes x-small through x-large.
MORE INFO & ORDERING
---
Top Alabama T-Shirt Categories
If you have tried out our Alabama T-Shirt Search Tool, then you know there are many different categories to search from. We have come up with some of the top search combinations that you might be interested in looking for certain Alabama Crimson Tide t-shirts. Take a look below are some of these top searches.
Vintage Alabama T-Shirts
Over the years there have been thousands of Alabama t-shirts made. Many with unique designs that have lasted for many years. Whether it was your favorite t-shirt you wore in high school or the Alabama t-shirt you wore to your first Alabama game. There are many memories made with these vintage Alabama t-shirts. You can find many of the vintage Alabama t-shirts from the past on E-Bay. Many people clean out their closet or storage bins and find these classic vintage t-shirts and put them up for sale on E-Bay. Here at T-Town Football we check each week to see what vintage Alabama t-shirts that are available for sale on E-Bay. Below are a couple of vintage t-shirts that are currently up for sale on E-Bay. To see a big selection of vintage Alabama products, check out our Vintage Alabama product page.

---

Goto Bama T-Shirts From Amazon
---
BACK TO CATEGORY PAGE
---
SORT BY: NEWEST ITEMS | LOWEST PRICE | HIGHEST PRICE
SHOP FOR: ALL | MEN | LADIES | UNISEX-ADULT | KIDS | BABY
---
1-33 of 1108 |

---