Alabama Crimson Tide T-Shirt - Man's Best Friend - Dog - Good Boy Roll Tide - Crimson

Product Main Category: T-Shirts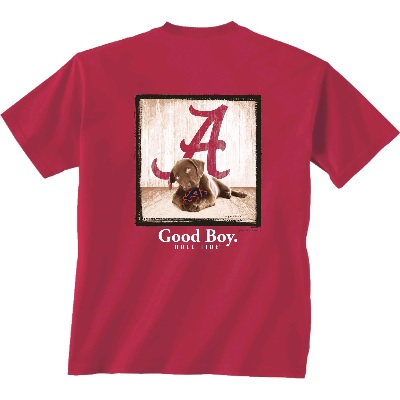 ---
Click Button below for Price
---

---
Product Details:
Words On Tee: Good Boy Roll Tide
Brand: New World Graphics
Condition: New
Gender: Unisex
Sleeve Length: Short Sleeve
Neck Line: Crew
Style: Regular Tee
Graphic Placement: Small Logo Front & Big Graphic Back
Color Pattern: Solid
Main Color: Crimson
Main Logo: Script A
Main Picture: Animals
Common Words: Roll Tide
Contain Saying: Yes
---
Product Info:
Here is a classic Alabama t-shirt, that any dog lover and Alabama fan will just love to have. This Bama t-shirt has been around for over 10 years. I am sure if you live in Alabama or have been to an Alabama game, you have seen this t-shirt. On the back of the t-shirt it has a dog chewing on an Auburn logo. It features a big Script A and says, Good Boy - Roll Tide. The front of the t-shirt says, Man's Best Friend.
---
---
Other Products You May Like:
Check out our T-Shirt Of The Day, which features the Alabama Straw Hat that has been made famous by Coach Saban. This t-shirt takes the straw hat and combines it with a great saying, Where I Come From This Means Victory.
Click Here To View This Blog Post
---
---
---
---