If You're Not A Tide Fan Then Bless Your Heart Alabama Crimson Tide T-Shirt - New

Product Main Category: T-Shirts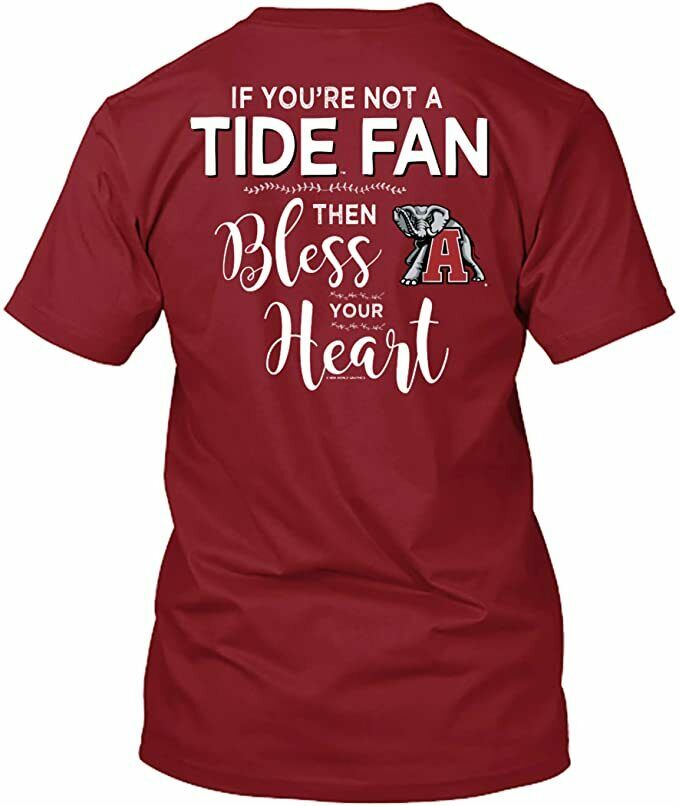 ---
Click Button below for Price
---

---
Product Details:
Words On Tee: If You're Not A Tide Fan Then Bless Your Heart
Brand: New World Graphics
Condition: New
Gender: Unisex
Sleeve Length: Short Sleeve
Neck Line: Crew
Style: Regular Tee
Graphic Placement: Small Logo Front & Big Graphic Back
Color Pattern: Solid
Main Color: Crimson
Main Logo: Elephant-A
Contain Saying: Yes
---
Product Info:
If You're Not A Tide Fan Then Bless Your Heart Alabama Crimson Tide T-Shirt - New
This design is printed on a Gildan Heavy Cotton brand tee.
It is made of 100% cotton.
Back of Tee Saying, "If You're Not A Tide Fan - Then Bless Your Heart"!
The front of the Tee has a small heart with the words, "Crimson Tide"!
Features:
Gildan Heavy Cotton Tee

Color: Crimson
100% Cotton
Neckline: Crew Neck
Sleeve length: Short Sleeve
Age Group: Adults Unisex Size Tee
The back of the tee has a big complete graphic design
The front of the tee has a small graphic design
Graphic: Screen Printed Graphic
Made By: New World Graphics
Brand New Tee with Official Licensed Collegiate Sticker
Official Licensed Collegiate T-Shirt
---
---
Other Products You May Like:
Check out our T-Shirt Of The Day, which features the Alabama Straw Hat that has been made famous by Coach Saban. This t-shirt takes the straw hat and combines it with a great saying, Where I Come From This Means Victory.
Click Here To View This Blog Post
---
---
---
---